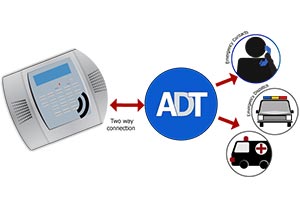 ADT Two Way Voice system resolves the biggest alarm problems in the house. Two way Voice eliminate False Alarm Dispatces by almost 90%. Quick and direct connect to ADT monitoring station resolves the Slow or Inadequate Responses. For intruder it is unnerving. As soon as the alarm goes off, our highly trained Command Center personnel will be live call at your home. It the proper indentification are not provided, they will be dispatching the police. Police will response faster because or proper detailed information will be provided to them.
It works like a magic when your loved one uses two way voice for the medical emergency. As soon as you press the panic button, ADT will be able to talk to you and understand your emergency and relate the exact situation and location to the EMS. Authority can arrive at the scene knowing exactly what kind of situation they will be facing.
ADT Two Way Voice will give you the extra peace of mind. Please call your local ADT dealer at 713-903-2060 for a FREE two way voice response equipment and services.